About Ms. Emma's Swim and Survival Academy
Teaching water safety, recreational and competitive swimming skills
Ms. Emma
Ms. Emma is a happily married ex-swimmer from London, England. She swam competitively for over 10 years competing both nationally and internationally. She was a lead teacher in a Montessori School for 17 years and have therefore had a lot of experience with young children. This has given her the tools to deal with many different personalities. She is very loving, strong, passionate and motivating which allows her bond quickly with the children helping the learning process. After a few years of teaching Montessori, in the after school hours, she began using her swim background to teach swimming to many of her older Montessori students. In 2001, whilst teaching regular swimming lessons, she observed someone teaching infant survival lessons and in that instant she knew what she had to do for the rest of my life! In 2003 she was accepted into the ISR (Infant Swimming Resource) Instructor Training and Development program and passionately pursued becoming a survival swimming instructor to provide these essential life-saving skills to as many children as possible.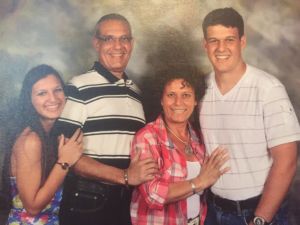 Her daughter Hannah, was floating before she was even walking and swimming before she can even remember. She was a competitive swimmer and graduated the U.S.Coast Guard Academy in 2017. She is currently a Lieutenant Junior Grade serving on the U.S Coast Guard. She also has a stepson that enjoys swimming and actually took these life saving lessons when he was a toddler. Today, he enjoys his job and excels and thrives being part of many Special Olympic events in tennis and bowling.
For past 17 years, she has taught thousands of children to be safe and confident in and around the water. A 2 year old student that had been taught these water safety techniques some 10 months before, fell into a freezing cold, muddy pond and used his newly acquired skills to save himself in a situation that could easily have ended in a horrific tragedy. It has been because of amazing incidences like that and the joy of that little boy's parents that I have dedicated myself to the mission to ensure that as many children as possible are given the chance of survival.
Teaching confident independent swimmers critical lifesaving aquatic skills!