Here are some pool safety tips, refreshers and some new things you may have never heard or thought of but can be life saving for your child.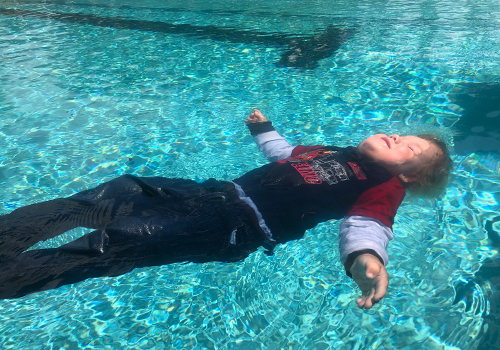 As a drowning prevention resource for your family, I  recommend a multi-layered approach towards pool safety in your home.
Adult Supervision – SUPERVISION! SUPERVISION! SUPERVISION! This is the most important line of defense to prevent drowning. While watching your child in the pool give them your undivided attention- do not check your phone or get distracted by other adults around you. If there are multiple adults around the pool one should be designated as the POOL WATCHER so there is always an adult responsible for watching the pool. This can be segmented into 20 minute increments.

Pool Water – Aim pool jets and in-floor jets to the shallow end of the pool to help push your child towards the steps if they happen to fall in. Keep the water level at the highest point for easy access to the wall for your little ones. A cry for help may not be heard over the sound of a loud waterfall.

Pool Fences – A pool fence with a self locking gate will help against anyone forgetting to close the gate. Please ensure all furniture, including children's larger toys, cannot be easily pushed close to the pool fence and used as a ladder to enter the pool area.

Alarms – All windows and doors leading to the pool should be locked and alarmed. Doggy doors can be used to exit the house by curious toddlers, please take all necessary precautions. Alarms should sound indicating that someone has opened/closed a window, door, or gate or is trying to climb the fence or is in the pool area.

Phone – Whilst supervising the pool area you should never answer the phone. A cell phone should be at the pool at all times for EMERGENCY USE ONLY!!

Pool Toys – Discourage curious children from entering the pool area by removing all pool toys from the pool and surrounding areas after swimming.

Educate Family and Friends – If family/ friends are visiting, educate them about the importance of locking doors, closing gates, emptying larger buckets, and closing the toilet seat, etc. Be overly vigilant when hosting family or having parties in the home. It is during these times that there can be a breakdown in normal supervision. The first place a missing child should be looked for is the pool or spa.

Drain Entrapments – Drain Entrapments are a SERIOUS danger. Drain covers can become broken, loose or missing and pose a grave threat. If you notice this in a public pool a lifeguard or pool manager should be notified immediately and you should refrain from entering the pool. Pools designed specifically for young children and in-ground spas that have single main drain systems and flat drain grates present the highest risk of entrapment.
"Even if your child has had swimming lessons, no child is drown-proof and there is absolutely no substitute for adult supervision."